Pakistani Basmati Steam Rice, 1121
Extra Long Grain 1121 Basmati Steam Rice Exporters from Pakistan
---
HAS Rice Pakistan is the premium 1121 basmati rice exporter in Pakistan supplying premium grade 1121 Basmati Rice. This extra long grain basmati rice is the specialty food that has an exceptional taste, extra long slender edgy shape and a fragrance that will simply overcome the perception of an entity enjoying a meal. Extra long grain 1121 basmati rice is with no doubt the ultra superior quality that once cooked has separate grains.
The primary specifications entail moisture level between 11.9% to 12.85%, Silky Polish, Extra Well Milled and Color Sorted, Our supplied 1121 Basmati Rice is exported to high class cuisines, restaurants, hotels, resorts, airline kitchens, retail stores, catering companies, supermarket and hypermarkets and ships cruises. Our Creative Unit designs OEM, Private Label for importers while an option is to order our registered rice brands.
---
Properties:
Long and elegantly thin
Delectable tastes
Non sticky texture after cooking
Fragrant aroma
Bright color
Nutrient Value:
High carbohydrate content
Starch
Rich in vitamins
Provides energy
---
Available in Private Label as per customer's requirements. Learn more…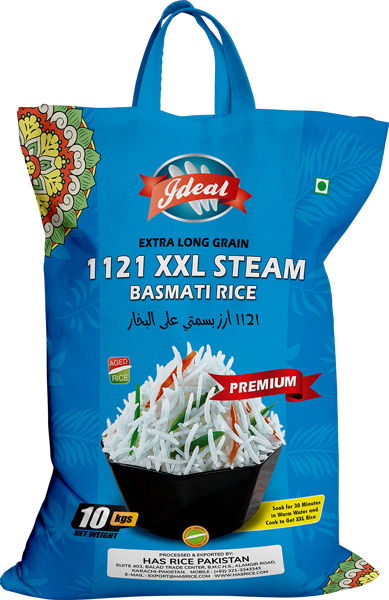 Specification for Pakistan 1121 Basmati Steam Rice
NATURAL
SPECIFICATION
Moisture Content
13.0% Max.
Average Grain Length
8.0 - 8.2 MM
Polishing Grade
Double Silky Polished
Damaged, Shriveled & Yellow
1.5% Max.

Broken Grains
2.0% Max.

Chalky Grains
3.0% Max.

Contrasting Varieties
7.0% Max.

Foreign Grains
0.2% Max.

Foreign Matter
0.1% Max.

Paddy Grain
0.2% Max.

Under-milled & Red-striped
2.0% Max.

Milling Grades Available
White 1121 Basmati Rice
Sella 1121 Basmati Rice
Steam 1121 Basmati Rice
Quality Certificate & Membership
Request for a Prompt Quotation
---
Please feel free to Request for a Prompt Quotation using the form below. To speed up the process, provide as much as details you can. Please allow 24 - 36 hours for us to provide you with a firm quotation — you might even receive a quotation the same day.

We really look forward to hear from you!